Kids are going back to school! Or if you are some people, you have already gone back as teachers or have already sent your kids back…maybe you homeschool and you start and end during public school times so you're back on again, whatever the case is, August seems to be "that time of year again" for a lot of us.  This week for Tuesday Ten, Rabia and Lisa have us sharing 10 things we love or hate about back to school.  It's so funny that just this past week I took you all back to my old beliefs and ways of thinking as a child.  I think I'm going to use this post to stay within that same vein.  Based on the title, you probably guessed I am going to share a little bit of both.  Here is my love hate relationship I had with back to school:
Things I hated:
I never looked forward to drama.  When drama would arise for whatever reason, it was never fun to deal with.  I hated that after a certain amount of time, that being in school that year would become boring or tiresome.  This didn't happen so much when I was very young, but at a certain point, especially as I got older, we would start to look forward to breaks and summer vacation.  Not understanding a specific topic in class with a teacher that didn't help me understand any better.  This isn't something that happened to me often, thankfully.  Initially, this was never fun or exciting.  I can't think of a time when I didn't get pass these obstacles eventually, but going through it wasn't something I ever looked forward to about school.  Not seeing my mom and having a connection with her.  I don't think I was ever that close with my mom.  It's one of the reasons I've become so determined and passionate about teaching and homeschooling my own children.  I hated it then and even now that my friends and people around me in school influenced me so much.  I wasn't as confident in being different and standing for what I knew what was right.  I joined in the crowd on lots of things and did what was cool in other situations.  Though I was an honor student and very active, I hated this about going to school- you know, wanting to fit in…..
My love list:
I loved very much that school was starting.  By the time the summer was about to end, I think for the most part, most years, I was more than ready for change and to head back to school.  The cool breeze that would suddenly be in the air right around mid August that was a sign that it was just about that time.  I grew up in New Jersey near the beach so fall made it known to us that it was coming very soon each year around this time.  The idea of getting brand new clothes and shoes to start the school year off.  My mom was very into fashion and clothes so my brother and I got it very honest.  It's funny because the schools now in the town I grew up in make all the kids wear uniforms.  I couldn't wait to learn.  As you all might be able to tell in the types of things I share, I am always hungry to learn new things.  This was no different when I was growing up.  I looked forward to this each year when school was about to start.  Getting to see my friends everyday.  Typically, I wouldn't be able to see people as much because we didn't drive and it was probably a far distance to get to them even if I was going to walk.  Especially once we got to high school, it was nice being able to see my friends in class, in between classes and at parties or school events.
Linking up with: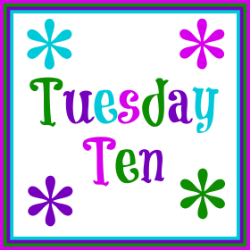 What do you love or hate about back to school?  You can tell me what you thought back then or even right now.
XoXo,